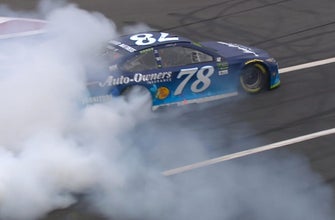 ANNOUNCER: Back into the restart zone and back to racing. Overtime, presented by Credit One Bank. They fan out three wide as they enter turn one. Here comes Chase Elliot. He's moving up to second as he tries to get by the 11. And you still see the smoke rolling out from behind the 42.
[ENGINES ROARING]
[ENGINES ROARING]
SPEAKER: White flag. White flag. [INAUDIBLE]
ANNOUNCER: White flag in the air. One more time around for Martin Truex Jr. He's been dominate at mile and a half tracks. This time he started 17th. Not a typical run for the 78 team to start so far back. But they've worked their way to the front. The 37-year-old from New Jersey coming out of turn four! Martin Truex Jr. will win the Bank of America 500!
ANNOUNCER: One driver will have a good week of sleep.
ANNOUNCER: That's his sixth win. [INAUDIBLE] for Martin Truex Junior.
ANNOUNCER: This moment presented by Sunoco, fueling victories all season long.
ANNOUNCER: [INAUDIBLE] Sometimes the– it's a little bit sweeter whenever you have to really work extremely hard. Not that they don't all– all the races aren't hard, but they have a car so dominant sometimes that they make it look easy. This today, was a body of work by everybody involved. Especially a great drive by Martin Truex.
ANNOUNCER: Martin Truex Jr.
[CROWD CHEERING]
A year ago it was this round that eliminated Martin Truex Jr. at Talladega. Made the second round of the playoffs, but it's not going to happen. Not in 2017, because Martin Truex Jr, who's put on another very impressive performance with this win in Charlotte.