5:11 p.m. ET: Turning point
Trea Turner reached base for the first time during this postseason and scored on an Addison Russell error to give the Nationals a 1-0 lead. Turner snapped an 0-for-13 skid when he doubled off Jake Arrieta with one out in the third inning, took third base on a wild pitch and crossed the plate when Russell was unable to handle Ryan Zimmerman's two-out chopper in the infield grass.   
4:28 p.m. ET: Fowl territory
Nats second baseman Daniel Murphy had to press pause in the first inning to run around shallow right field to disperse a small flock of birds.
4:27 p.m. ET: Stras produced
Stephen Strasburg showed no signs of fatigue or lingering flu-like symptoms as he recorded two strikeouts during a perfect first inning. Strasburg battled the flu this week, but he arrived at Wrigley Field a few hours before Wednesday's first pitch and deemed himself ready to pitch in this must-win game for the Nationals. He held the Cubs hitless through the first five innings of Game 1.  
4:10 p.m. ET: Hey, Chicago, what do you say
After a postponement and a full day of questions about who would pitch for Washington, Game 4 between the Cubs and Nationals finally began with Jake Arrieta's first pitch to Trea Turner. The conditions at Wrigley Field are friendly only for pitchers, with a game-time temperature of 59 degrees, 15-mph winds blowing in from the outfield and mist spraying in off the lake. Arrieta seemed unfazed, however, sporting only short sleeves as he worked a scoreless first inning that brought the poncho-clad home crowd to life.
4:04 p.m. ET: Even throw
Usually, the person throwing out the ceremonial first pitch at Cubs games throws to one of the relievers. On Wednesday, Rick Sutcliffe threw out the ceremonial first pitch to Pearl Jam's Eddie Vedder. Vedder is a huge Cubs fan and apparently brought his glove for the game.
Eddie and the Red Baron with a first pitch duet. #NLDS pic.twitter.com/OscWNJ58uA

— Chicago Cubs (@Cubs) October 11, 2017
3:27 p.m. ET: For starters
Today's starters, Stephen Strasburg and Jake Arrieta, head to the bullpen to warm up for a key Game 4 clash.
Arrieta on his way to the #Cubs bullpen

— Carrie Muskat (@CarrieMuskat) October 11, 2017
Nats' Strasburg heading to the bullpen to warm up. #Cubs #NLDS

— Carrie Muskat (@CarrieMuskat) October 11, 2017
2:42 p.m. ET: Baseball in the forecast
Both teams opted not to have batting practice today, so the grounds crew is getting everything ready for first pitch about 90 minutes from now while Wrigley Field organist Gary Pressy serenades the first flock of fans with a Beach Boys classic.
#Cubs @GaryPressy trying to warm up early bird fans with Beach Boys' "California Girls"

— Carrie Muskat (@CarrieMuskat) October 11, 2017
2:03 p.m. ET: Tarp off!
Game 3's summer weather is definitely in the rearview mirror, but it's not raining and there's going to be baseball at Wrigley today.
Here we go. #Cubs pic.twitter.com/VVlLsvB3MH

— Carrie Muskat (@CarrieMuskat) October 11, 2017
1:42 p.m. ET: What a difference a day makes
Nationals general manager Mike Rizzo held a press conference before Game 4 to explain the decision to have Stephen Strasburg start. According to Rizzo, Strasburg began feeling flu-like symptoms — "fever, chills, acute sinusitis," Rizzo said — shortly after his Game 1 start. Strasburg threw his between-starts bullpen session on Monday but had "no endurance" and felt weak, Rizzo said, but received anti-inflammatory medication, antibiotics and intravenous fluids the past few days, including Wednesday morning. 
Following Tuesday's rainout, the Nats met in manager Dusty Baker's office and asked Strasburg if he would be available to pitch. At that point, Strasburg told management that he would give them everything he had, but he couldn't say for certain how much he had to give. When they had a similar meeting Wednesday morning, Rizzo said, Strasburg "felt much more like Stephen Strasburg.
"So he came into the clubhouse and went to the manager's office and said that, 'I want to start this game,'" Rizzo said.
1:20 p.m. ET: Maddon: Stras starting doesn't change much
When the Cubs got word that Strasburg was starting for the Nationals in Game 4, manager Joe Maddon simply made a small tweak to his lineup and that was it, saying: "It doesn't matter. It really doesn't matter. When it comes down to playing the game, our guys will be ready to play. We know what we think we can expect."
#Cubs Maddon says there was an "inkling" Strasburg might start

— Carrie Muskat (@CarrieMuskat) October 11, 2017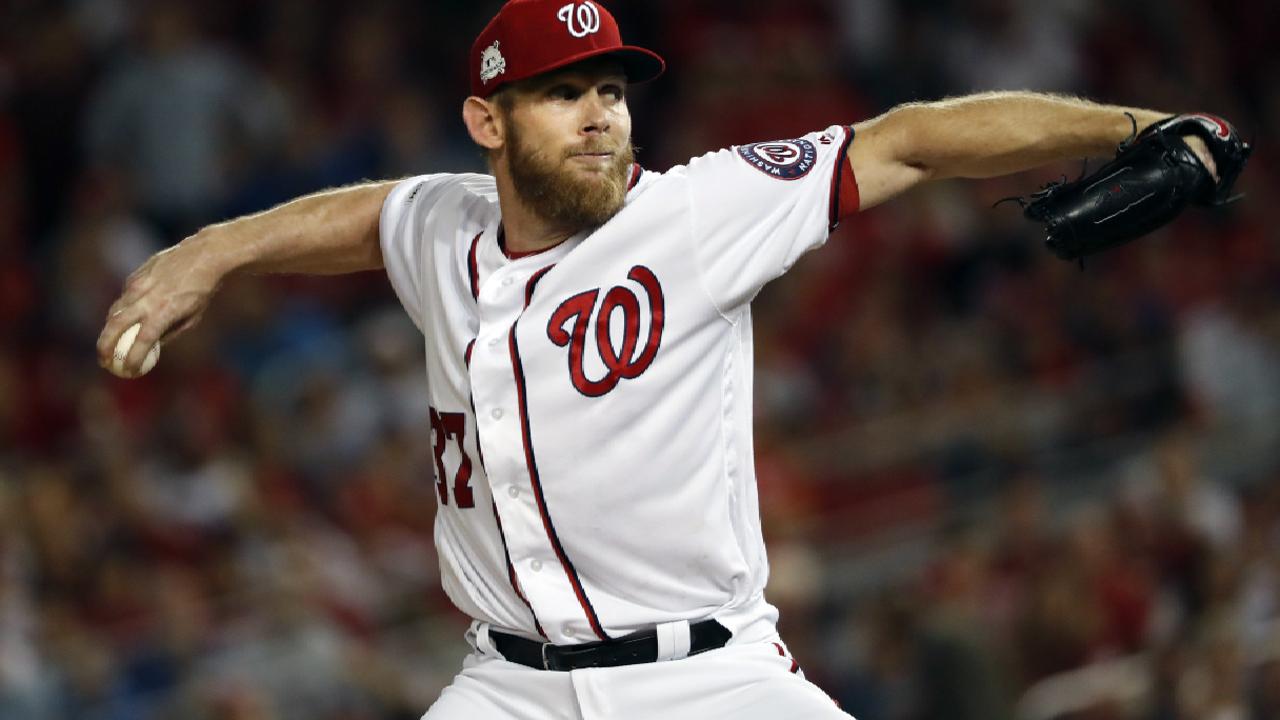 1:15 p.m. ET: Wrigleyville is ready
1:04 p.m. ET: Nats name lineup behind Strasburg
Aside from his starting pitcher, Washington manager Dusty Baker is running out the same lineup he announced on Tuesday against Cubs starter Jake Arrieta.
Game 4 #OnePursuit pic.twitter.com/KMICa3Xmkx

— Washington Nationals (@Nationals) October 11, 2017
12:48 p.m. ET: Cubs swap Heyward for Schwarber
With the news that Stephen Strasburg is going to start, Maddon reconfigured his lineup. Jason Heyward will start in right field, Ben Zobrist will slide over to left and Kyle Schwarber is out of the starting lineup. Aside from his stellar defense, Heyward is 15-for-37 (.405) with four doubles, a homer, three walks and four RBIs in his career against Strasburg, while Schwarber has never faced the Washington ace.
Strasburg will start. #Cubs will start Heyward in RF, Schwarber out of the lineup

— Carrie Muskat (@CarrieMuskat) October 11, 2017
Here is today's updated #Cubs lineup: pic.twitter.com/X19IDv3HPm

— Chicago Cubs (@Cubs) October 11, 2017
12:18 p.m. ET: Wind effects
The rain stopped at Wrigley Field on Wednesday morning, but the weather has definitely changed. Northeast winds at 16 mph will favor the pitchers. This year, the wind blew in at Wrigley Field for 40 games, and the teams combined to score an average of 8.4 runs per game. By comparison, when the wind is blowing out at Wrigley, which it did for 16 games, teams have combined to score 13.4 runs per game. The temperature at Wrigley is 57 degrees, but the wind off Lake Michigan makes it feel a little cooler.
11:37 a.m. ET: It's a Stras world after all?
MLB.com's Jon Paul Morosi reports that Stephen Strasburg, who was feeling "under the weather" on Tuesday, is expected to start Game 4. Tanner Roark was originally slated to start on Tuesday before the game was rained out, and manager Dusty Baker said after the postponement that he would stick with Roark for today's contest.
Source: Stephen Strasburg now expected to start Game 4 for the #Nats. @MLB @MLBNetwork

— Jon Morosi (@jonmorosi) October 11, 2017
Just spoke by phone with Scott Boras, who said Stephen Strasburg had flulike symptoms yesterday. @MLB

— Jon Morosi (@jonmorosi) October 11, 2017
Boras stressed #Nats are making this decision, not Strasburg; Boras said Strasburg still could be available today depending on his health.

— Jon Morosi (@jonmorosi) October 11, 2017
11:16 a.m. ET: Cubs announce Game 4 lineup
Chicago manager Joe Maddon is sticking with the same lineup he announced on Tuesday.
NLDS Game 4, take two.

Game preview: https://t.co/gwSBoCZvdR pic.twitter.com/xbQy70E6b6

— Chicago Cubs (@Cubs) October 11, 2017